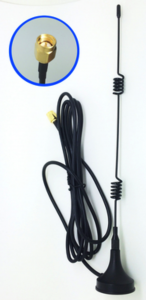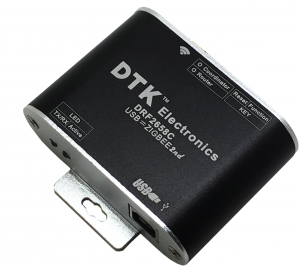 This module can turn serial communication between HMI to PLC or PLC to PLC, HMI to HMI, to reliable wireless communication up to 1600 meters away. Zigbee, as a universally popular wireless communication protocol, is the technology behind it. It can work in one to one or multiple to one models.
Zigbee, as Wikipedia put it, is a low-power, low data rate, and close proximity (i.e., personal area) wireless ad hoc network.
You don't need to do any particular work, other than setting up the modules easily, to make your PLC to HMI communication go wireless. Program PLC and HMI exactly the same as you program for serial communication over RS232/RS422/RS485.
Reference from our Australia customers can be provided if needed.
Specifications:
Power: 5VDC – 28VDC
Operating temperature: -40℃ – +85℃
Serial Baud Rate Options: 38400bps (default), 1200bps, 2400bps, 4800bps, 9600bps, 19200bps, 38400bps, 57600bps, 115200bps
Serial Communication Options: 8-N-1 (default), 8-E-1, 8-O-1
Radio frequency: 2.4GHz (2460MHz by default). Can be changed to anywhere between 2405MHz and 2480MHz at the step of 15MHz, corresponding with channel number 11 – 26 in the setting.
Transmission Distance: 1600m when outdoor, no blocking, no interference, no noise. 100m-400m in normal outdoor environment without radio interference. 50m-200m in indoor environment. Signals can go through 2-3 walls or 1-2 floors.
Working current: 25mA (@3.3V)
Receiving sensitivity: -98dBm
Configurable Roles: Coordinator, Router, End Device
This module comes with sucker antenna so that the module can be put in a box with antenna outside.
This product can be used together with our PLC/HMI to convert the wired RS485 communication in between to wireless communication without changing anything in the code. Zigbee module works in a way that makes wrapping up of data transparent to RS485 communication. You can also use it for point-to-point communication (with a defined address for each module), and non-transparent communications.
This product needs a RS485-to-USB adapter to connect to PC for configuration (we have it in store).
This product can be powered up by the 5VDC output on our RS485-to-USB module.
Here to download configuring app and step-by-step instructions.

Note: This product by itself ships only to Australia. Customers from New Zealand and Australia can get this shipped for free when combined with any other PLC/HMI/Panel PC products (not accessories).