Intuitive programming software design, no limitation, totally free. Easy-to-use programming software with very intuitive design, and the software is totally free, live run mode and offline mode are supported. Before placing your order, you can download it and play around with it.
                          Levi Studio IDE – Software Kit for Levi Series HMI
                          PI Studio IDE – Software Kit for PI Series HMI
Powerful hardware configuration. 
                    WECON PLC/HMI Catalogue 2019 with data sheets
                    WECON Industrial Panel PC Catalogue 2019
Levi Models
PI3000
PI8000
PI9000
Size Options
3.5", 4.3", 7", 10"
7", 10"
7", 10"
12", 15"
Screen Resolution
3.5": 320*240
4.3": 480*272
7": 800*480
10": 800*480
7": 800*480
10": 1024*600
7": 800*480
10":800*480
12": 1920*1080
15": 1920*1080
Buy Now Links
3.5"/4.3" Combo Deal,
3.5"/4.3 HMI,"
7" Combo Deal
Combo Deal,
HM ONLY
Combo Deal,
HMI ONLY
Combo Deal,
HMI ONLY
CPU
32 bit 300MHz RISC
Cortex A8 600MHz
Cortex A8 600MHz
Cortex A9 1.4GHz 4-core CPU
Flash/Memory
128M/64M DDRAM
128MB/128MB DDRIII
4GB/512MB DDRIII
4GB/512MB DDRIII
SD Card Slot
N/A
Up to 32G
Up to 32G
Up to 32G
Communication
1 COM Port
4.3" Optional Ethernet Port
2 COM Ports
1 Ethernet Port
2 COM Ports
1 Ethernet Port
1 CANBus (Optional 1 more)
2 COM Ports
1 Ethernet Port
Programming Tool
Traditional Technology,
No Remote Control
Download
Web-based,
No Remote Control Over Internet,
Optional PC Control Within LAN Only
Download
Remote Control Over Web-Based, Internet(Cloud) Through Dedicated Phone Apps
Download
Web-based,
Remote Control Over Internet (Cloud) Through Dedicated Phone Apps
Download
Audio/Video Playing
N/A
N/A
N/A
Optional
CCTV Camera
USB Camera
N/A
N/A
1 CCTV Camera
1 USB Camera
Up to 4 CCTV Cameras
1 USB Camera
Power Supply
12VDC – 28VDC
12VDC – 28VDC
12VDC – 28VDC
12VDC – 28VDC
WIFI
N/A
N/A
USB WIFI Adapter
Buy Now
USB WIFI Adapter
Buy Now
Others
1 COM,
Ethernet Optional
Onboard Ethernet,
2 COM Ports
On-board CAN Bus,
Onboard Ethernet,
2 COM Ports
Onboard Ethernet,
1920*1080,
2 COM Ports
Big image gallery to beautify your interfaces. A big collection of industrial pictures in both vector (, which you can zoom in on without becoming pixelated) and raster (BMP/JPET/PNG pictures) formats  to facilitate your interface design. You can also draw your own pictures or search pictures on internet then import them to the gallery to use.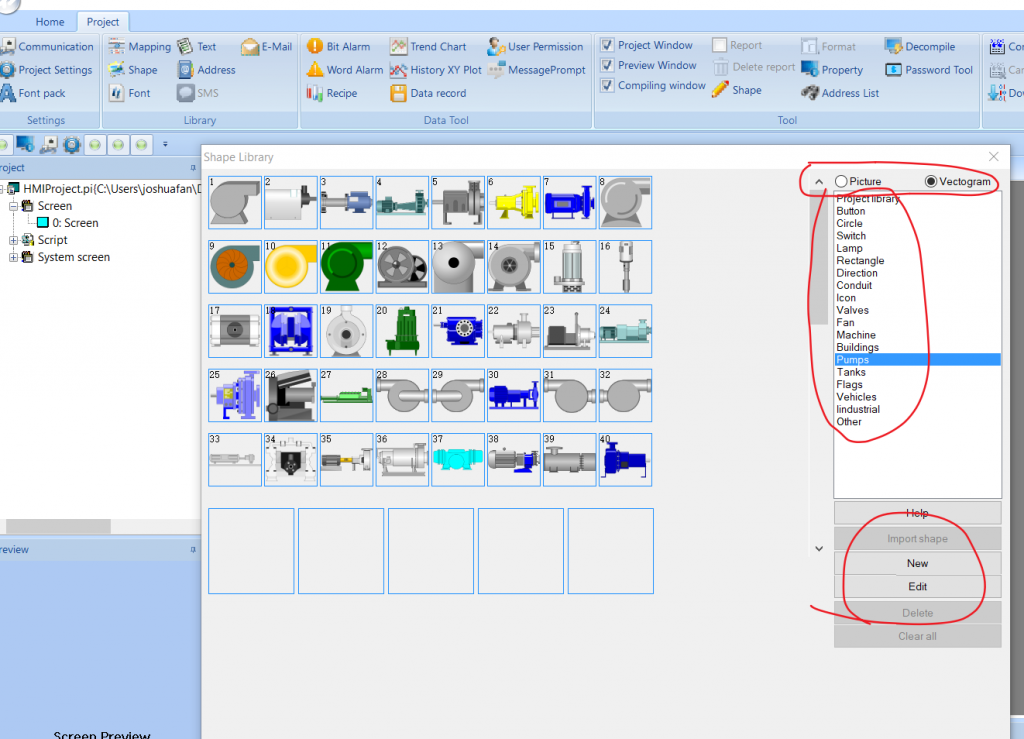 Remote control support on web-based HMI platform. Our PI HMI platform is web-based, which makes remote control from mobile phones and PCs over internet easy and convenient. All you need to do is hook up your HMI to internet, use web browser on PC to log into our website, or download our dedicated apps on iPhone and Android phones, choose the HMI device you want to monitor and control, the screens would be brought to your PC or mobile phones, you can monitor what's going on also control it on you phones exactly as how you do it on the screen. If you are interested, ask us for a demo account to see and feel yourself. This remote control feature is securely encapsulated within cloud technology.
Web HMI. With Web HMI, the HMI interaction can be totally moved onto internet. Use our own proprietary software platform, you can easily create web pages to show data, and control your devices. The data is securely transmitted within cloud. Lua script is the embedded tool for advanced programming tasks. You can choose your own cloud platform to transmit and store all your data.
Customisable keyboards. System has a few built-in keyboards. The real beauty is that you can custom-build your own keyboards layouts and sizes to fit your own situations. On-screen input has always been really awkward, good thing that now you can design the best-suited keyboard yourself to make it easier.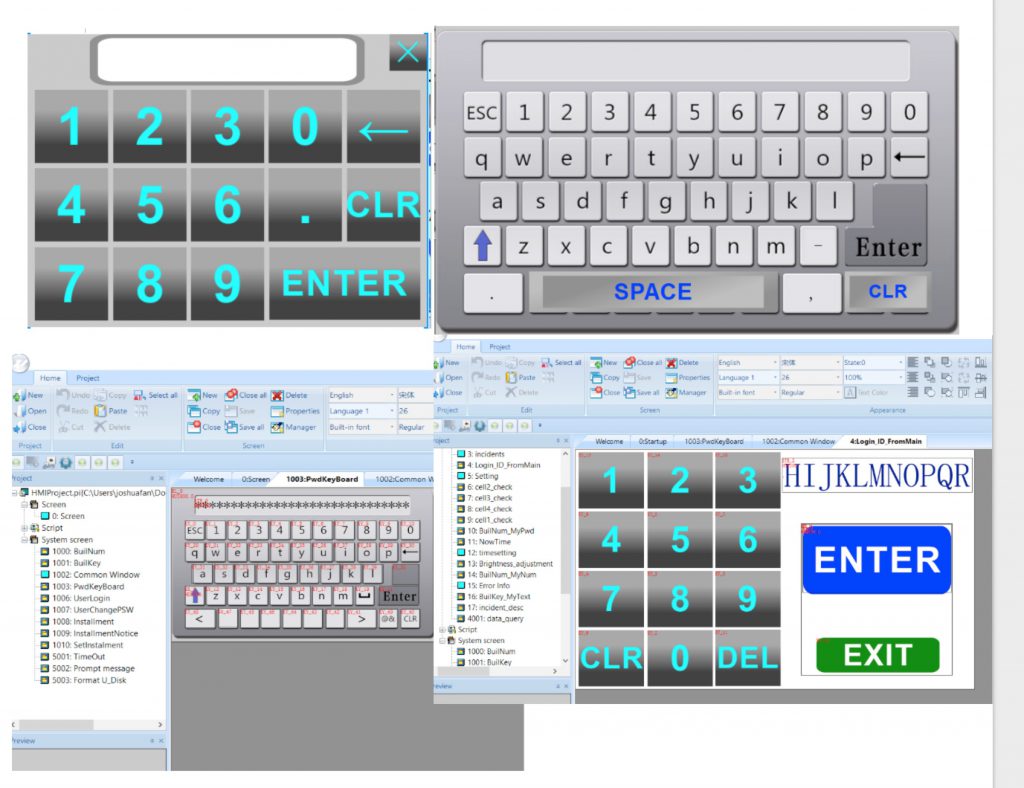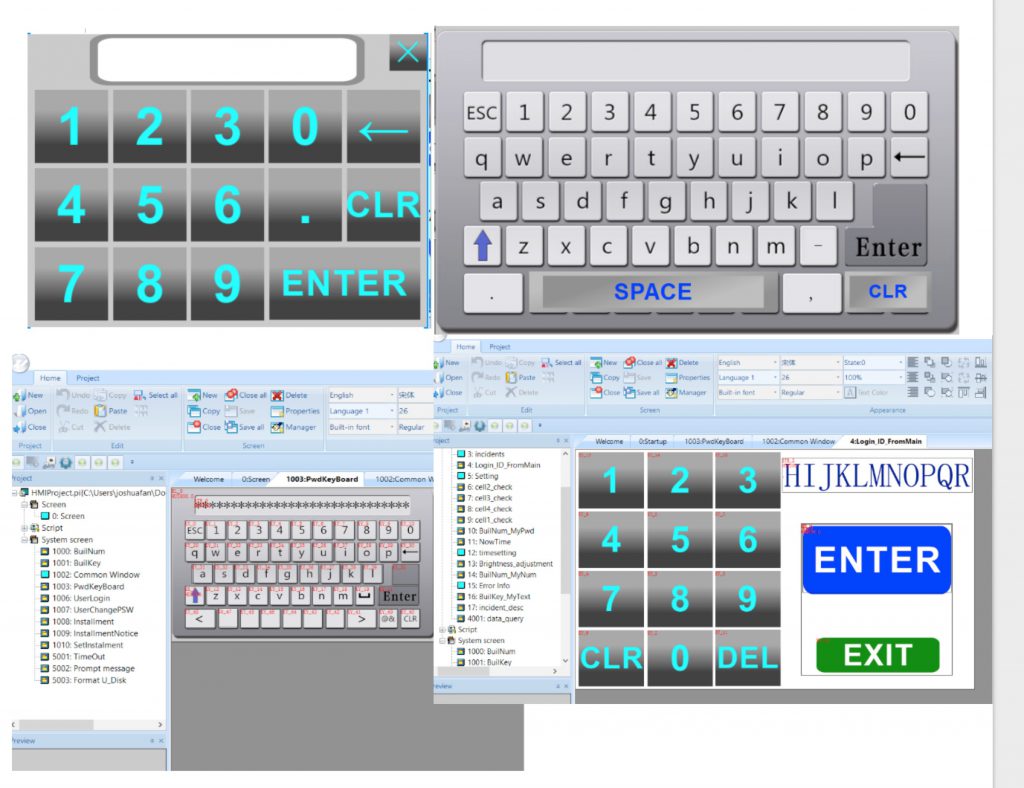 Powerful script programming support (VBScript). Script programming is a very convenient and efficient tool, which can be used to directly do computations on PLC registers, to switch windows, do timers, to write to and read from files, and perform tasks after a trigger, and a lot more other advanced functions.  We have samples and programming tips in using it efficiently. You can also come to our experts for help.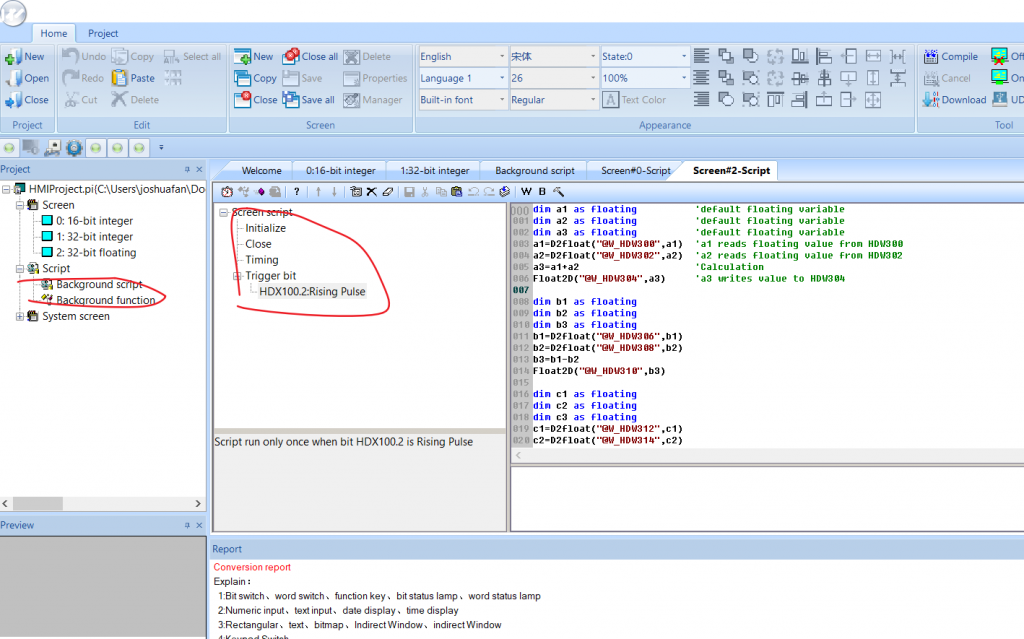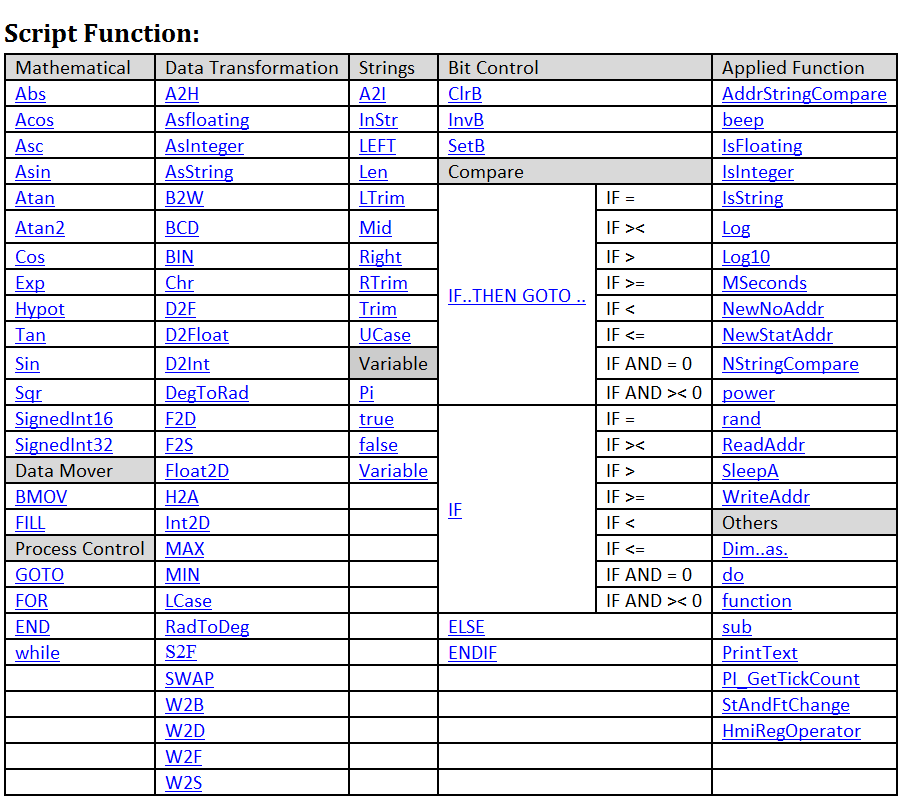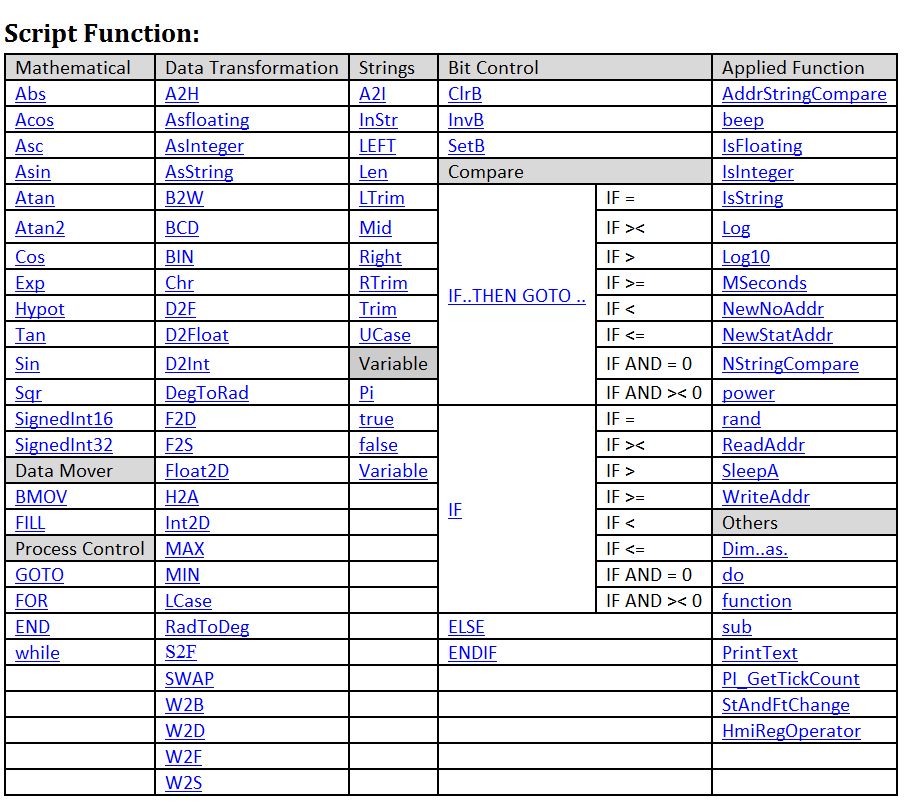 Plenty samples to start from. We have free-to-download how-to samples to explain all sorts of features to help you overcome the initial fear towards a new environment and familiarise yourself with all its great tools.
                          PI Studio Sample Projects and Codes
                          PI Studio Sample Projects and Code 2018
                          Levi Studio Sample Projects and Codes
Large local memory for on-the-run data. To use PI Series as a sample, 300,000 word addresses (HDW0 – HDW300000) for temporary data. 200,00 word addresses (HAW0 – HAW200000) for data to be kept after power off. Other than that, depends on the model, there are different size of storage left on its flash memory to store operation history, alarm or history data files. Some models support external USB drive or SD card, which can be used for alarm and history files.
Data Analysing Tools. History and live data can be used to create Trend Chart, Pie Chart, Bar Chart, Plot Chart, Meters, Tables etc. Alarms can be set to be triggered by bit or word data.
Flexible after-sales authorisation control. After delivering your projects to your customers, you can still exercise a pay-by-instalments styled authorisation control. There are two ways to create instalments. With the manual way, you create, say, 12 instalments in the setting, then set up password, and expiry date for authorisation of each instalment period. Before each instalment is due, customer would get notifications to pay the next instalment for another period of authorisation, until it's expired. After the payment, you can give the customer its password for the next session. This process would be repeated until its final instalment has been paid. You can also use the automatic way where you just need to set up a password keyword and when the next instalment would be due. After it's due, and payment has made, you can use the password key to crate another pair of password and due date. Send this password to customer for the next session of authorisation.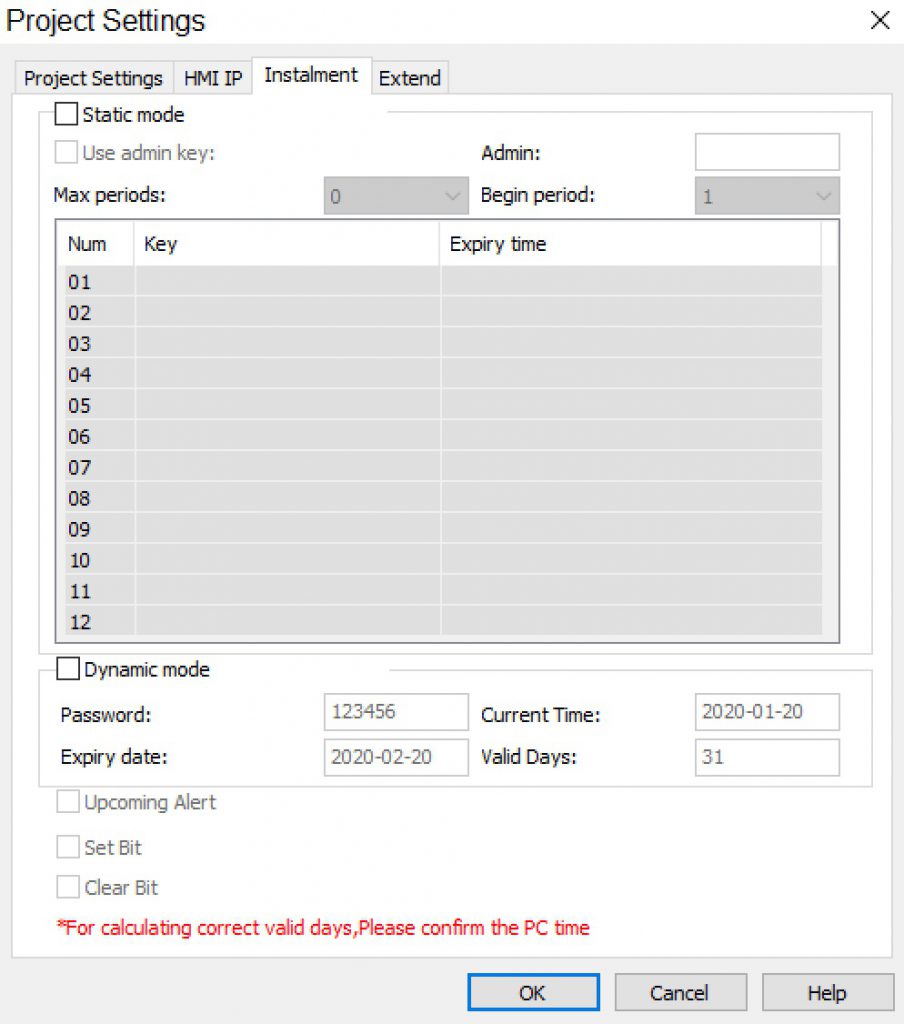 Many screen size options and remote control capability. Screens from Levi Series have screen sizes available at 3.5″(Levi2035), 4.3″(Levi2043E, Levi2043T), 7″ (Levi2070) and 10″(Levi102ML). PI Series have PI3000 (7″ PI3070 and 10″ PI3102), PI8000 (7″ PI7080 and 10″ PI8102) and PI9000 (12″ PI9120, 15″ PI9150). Levi screens are designed in the traditional software platform. PI Series are web-based screens, which have the potential to be monitored and controlled from mobile phones, iPads and computers via cloud (internet). PI3000's hardware is not powerful enough to handle that, but you some models can be accessed from computer within LAN. PI8000 and PI9000 can be accessed with dedicated iPhone and Android apps through secure cloud connection. If you have doubts, you can ask our experts to set up a demo screen, so you can experience remote control first-hand.
           Video Demo: How To Remote Control Your HMI Screen From Mobile Phones.
Alarm notification via E-Mail (possible SMS in the future through cloud support). On some PI models, you can set up triggers and grouped recipients to receive alarm and other events notification by E-Mail.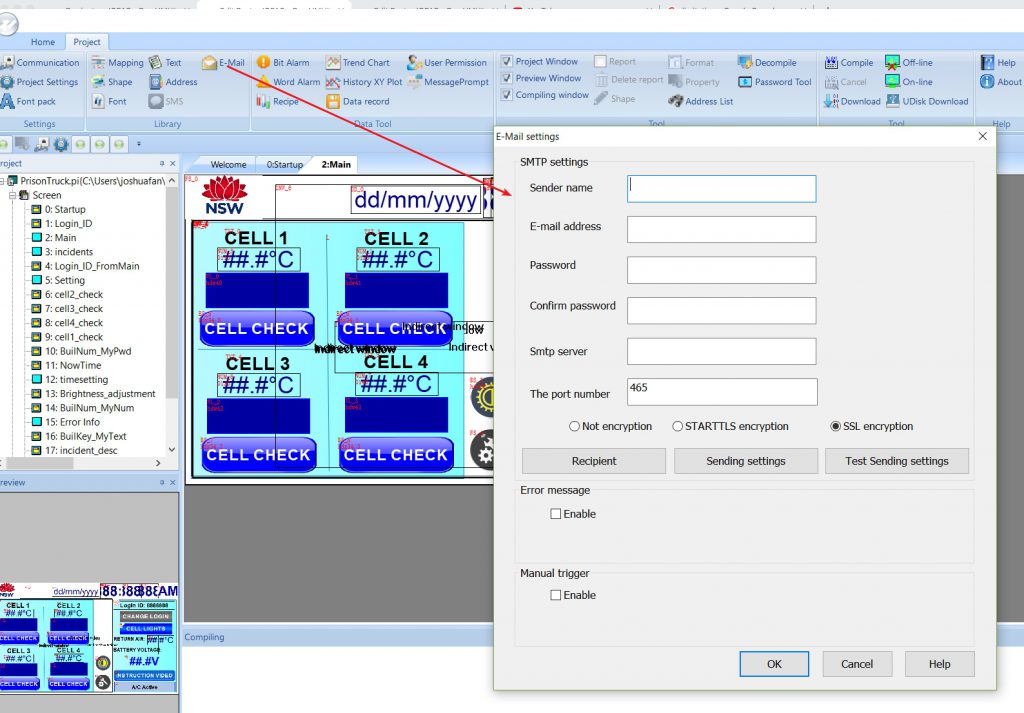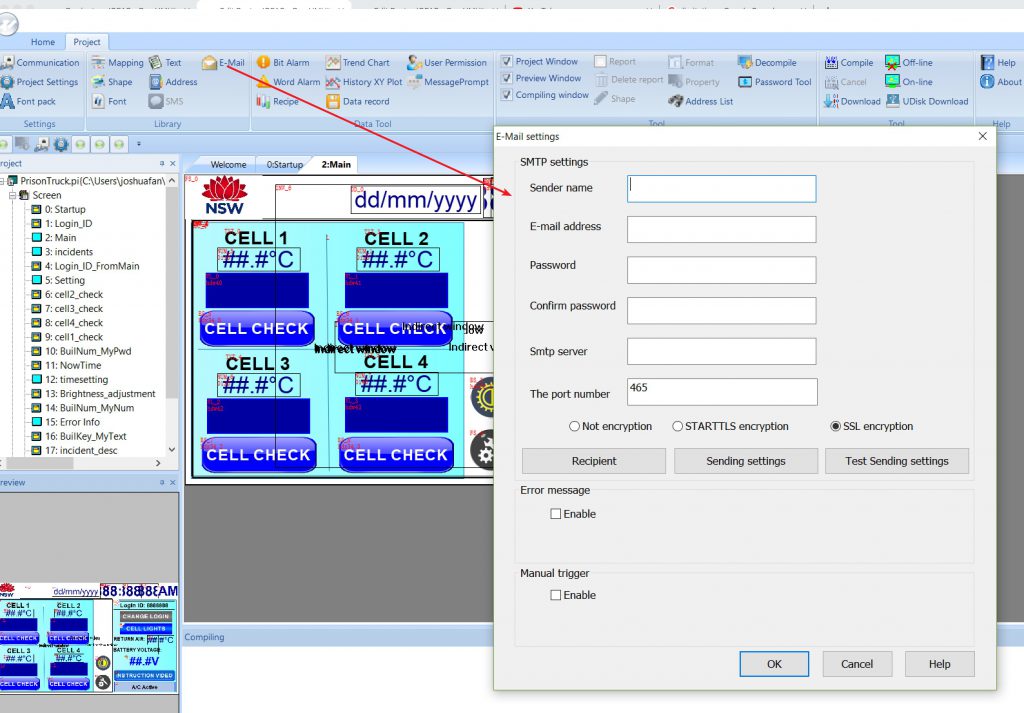 Live run for easy programming. The software can run on PC in offline and online mode. With online mode, you can connect your PC to your PLC or whatever devices you use to control via Ethernet Port or RS485 depending on the protocol you choose to run, to get live data from it, which would make programming much easier. If you use RS485, you'll need one of this device for interface conversion.
"Go wireless" connection. Use this device you can make the connection between HMI and PLC go wireless. It also works in one-master-to-multiple-slave situations. Some of our HMI models also support 4G and WIFI.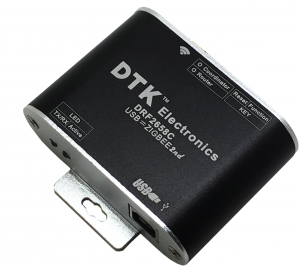 Audio and Video playing. Models from PI9000 Series (12″ PI9120, 15″ PI9150) support video and audio files playing.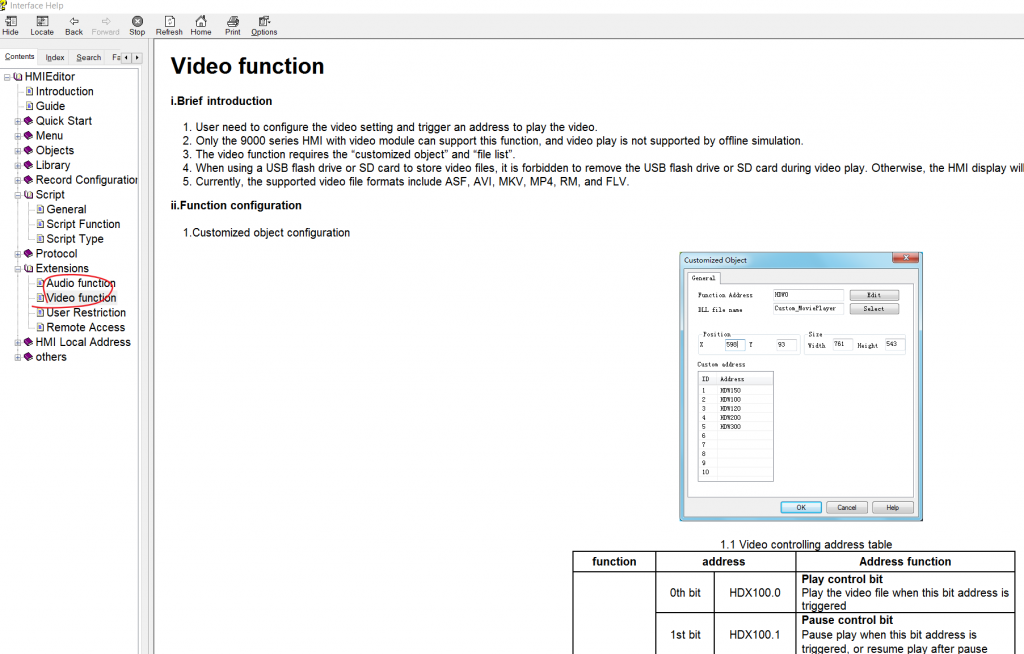 CCTV camera and USB camera support. PI8000 screens (7″ and 10″) support monitoring and controlling of one CCTV Camera, while PI9000 (12″ and 15″) support up to 4 CCTV cameras. PI8000 and PI9000 screens also support one USB camera. The following documents include cameras models have been tested and approved.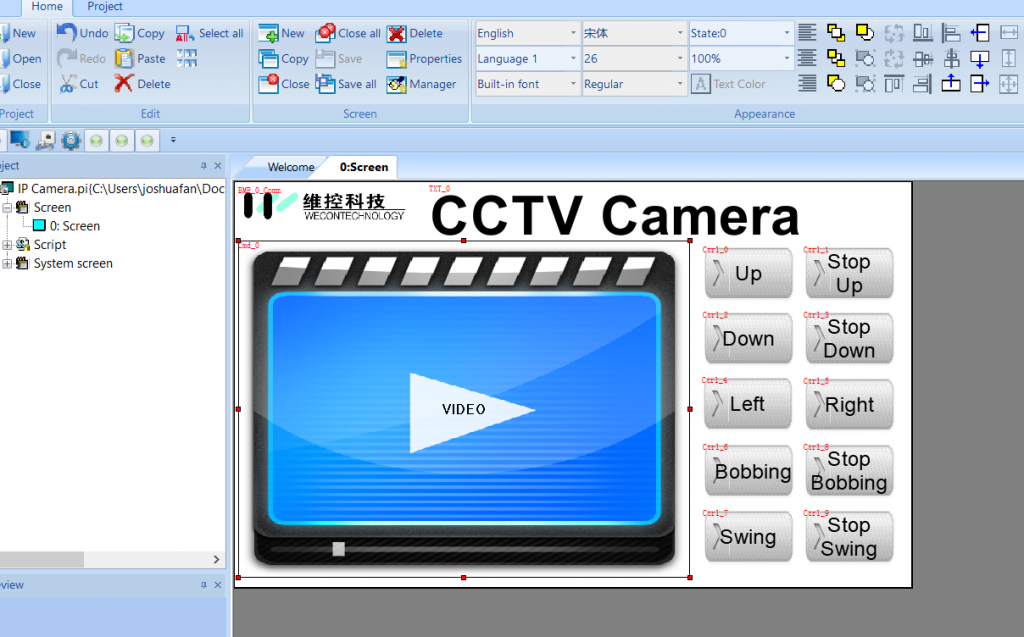 Protocols support. Other than MODBUS RTU and TCP, both PI Series and Levi Series HMI screens support a vast range of PLC communication protocols via both RS485 and Ethernet Port. Here's a list of protocols of what we support up until. For those that we haven't supported, a request to have it covered could be granted with an order of a certain amount.
10-tier User Authorisation Structure. Users can be categorised into any one of the 10 tiers. Users on every tier have the same authorisation level. Users can be authorised to operate or not to operate specific buttons.
          Video demo of user authorisation feature.
History or alarm records stored in Database. Operation records are stored in the format of database. Tools to open, browse and query the database on PC are included. You can also convert the database file to EXCEL files.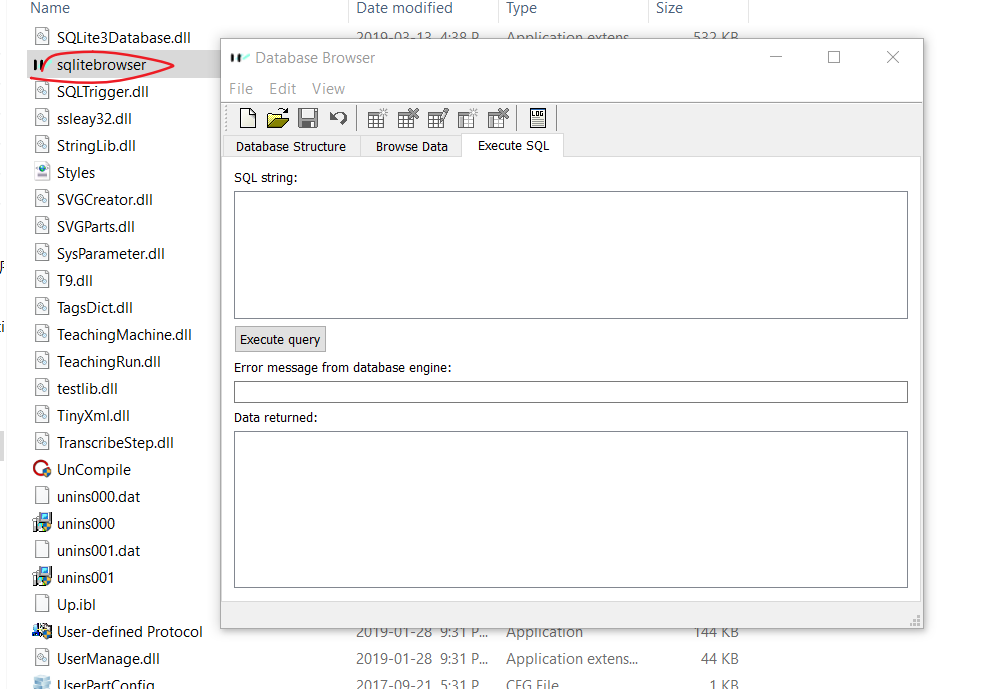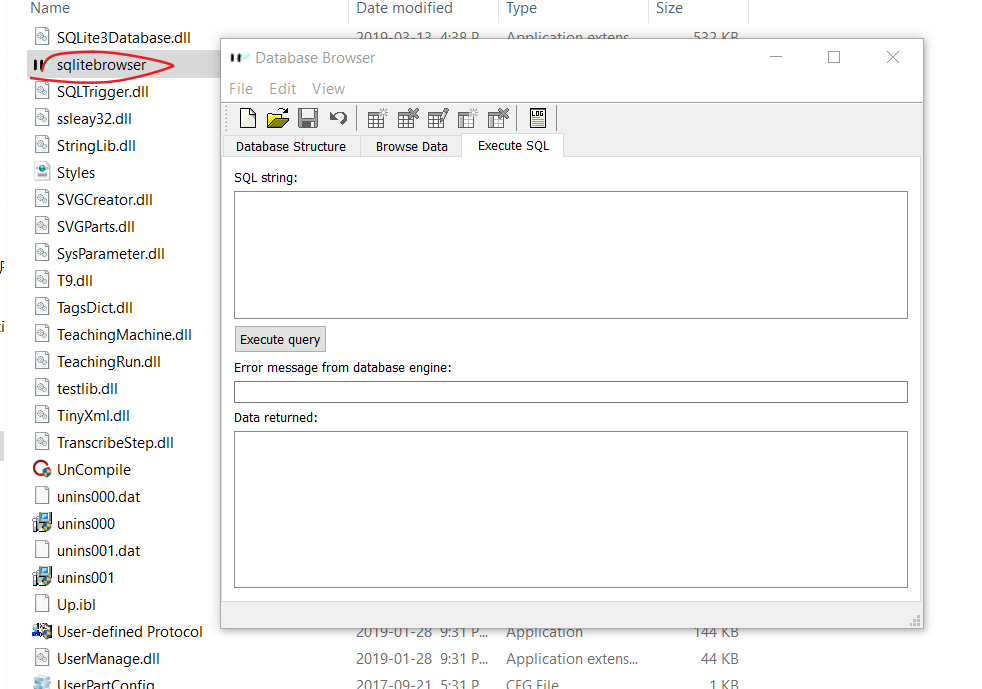 Printer and bar code scanner supported. USB printer, Serial Port Printer are supported to print data or screen shot. Bar code scanner is supported.
           Video Demo: How to connect to printer.
          The following video demonstrates how to use QR code on HMI screen:
WIFI/4G support. Some of our HMI models have the option of embedded WIFI and 4G support.