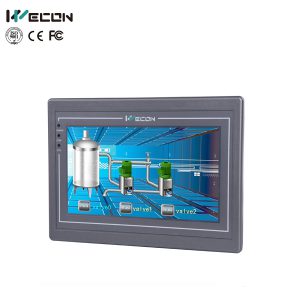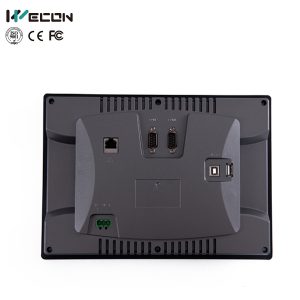 Web-based HMI

: Use iPhone/iPad/Android devices to remotely control your system via PLC
Key Specs:
7″ TFT Touch Screen
Remote Control from PC and mobile phones
Remote Restart
CORTEX A8 600MHZ CPU
800*480 in resolution
maximum 5 COM Channels for RS232/RS485/RS422
4GB flash + 512MB RAM
ETHERNET port
Optional USB WIFI, IP Camera
Script support for simple computation and background timers
Data retention in case of restart and power failure.
Remote access/control via Internet or LAN on PC and smart devices
Automatic internet date and time.
Easy configuration to work with all brands of PLC through MODBUS and other protocols
Buy Now:
Relevant Downloads:
Sample Projects, Codes and Tutorials:
Once considered impractical for applications requiring responsive animation and real-time control, our web-based HMI system, equipped with Could Technology in the background, can deliver sub-second response, rich animation and natural integration with other parts of the corporate information infrastructure. Unlike traditional systems, these web-based systems can economically be extended to every aspect of a business such as QC, maintenance, logistics, plant manager, and so forth. Now every participant in the manufacturing cycle can have unprecedented access to vital plant production information.
Wecon has two series of HMI screens. Levi Series is the classic series that features essential only functions, no-frills design. PI Series, adopting latest technical development, was designed for now and also for the future. With a better display and faster CPU on the outside compared to Levi, the new PI Series has more focus on overall performance than just lower prices. Its software platform, PI Studio, is designed from scratch with flexibility and reliability as top priorities.
PI Series' is categorized into three sub series, with PI3000 at the low-end for cost-sensitive customers, PI9000 being the high end for customers valuing overall experience, and PI8000 targeting the middle ground.
PI Studio is the easy-to-use proprietary IDE for screens of PI Series, with which it's basically just a drag and drop job to build your own interactive applications. PI Studio has in-built support for Modbus, CAN, and most of the communication protocols for talking to major PLC players' products. You can also use your own protocol if you so wish.
Web-based design means you can bring the interactive screens you've created with PI Studio to your PCs, your smart phones and tablets, and you can operate on these devices from anywhere in the world as exactly you are operating on the HMI screen, as long as you have these devices connected to your HMI device via Local Network/Internet over WIFI/cable. Access on iPhone/Android phones via Internet requires a non-free subscription to cloud-based platform service. Without this subscription, you can still gain access on your smart phones or PCs via Local Network(LAN) on web browsers (PCs and HMIs need to be in the same network, meaning connections can't go beyond a gateway).
As WECON goes all out to make it possible for customers with or without programming experiences to use the IDE without much of a learning curve, we strongly encourage all our customers try to develop their own applications so that any modifications can be easily done at any time required. We have Software Engineers ready to assist in solving any problems you might come across. But if you really don't want to spend time in it, both WECON and us can do the job for you at a low rate.
PI 8000 and PI 9000 support cloud-based remote access, which means, with no development required, you can monitor and control your devices through internet on your smart phones (Android and IPhone), tablets and computers. It's a subscription based service provided by Wecon through its cloud platform.
DISPLAY
| | |
| --- | --- |
| Size | 7″ |
| Resolution | 800*480 |
| Brightness | 300 nits |
| Contrast Ratio | 500:1 |
| Backlighting | LED |
| Backinglight Life Expectancy | 50,000 hrs |
| Colors | 262144 (18 bit) |
MEMORY
| | |
| --- | --- |
| Flash | 4GB |
| RAM | DDRIII 512M |
| RTC | 256KB |
| SD Card Slot | Yes |
I/O
| | |
| --- | --- |
| USB | USB Host USB 2.0 x 1, USB Client USB 2.0 x 1 |
| Printer Port | Serial |
| Serial COM1 | RS232/RS422/RS485 |
| Serial COM2 | RS232/RS422/RS485 |
| Serial COM3 | N/A |
| Ethernet | YES |
| CAN | Optional |
POWER SUPPLY
| | |
| --- | --- |
| Power Fail Tolerance | < 5ms |
| Input | 24V DC(12~28V DC) |
| Wattage | <10W |
| Power Isolation | N/A |
| Breakdown Voltage | 500V AC within less than 1min |
| Insulation Resistance | over 20MΩ 500VDC |
| Vibration Testing | 10 ~ 25 Hz (2G/30mins) |
ENVIRONMENT
| | |
| --- | --- |
| Cooling Method | Natural |
| Protection Class | IP65 |
| Storage Temperature | -20 ~ 70℃ |
| Operating Temperature | -10℃ ~ 60℃ |
| Operating Humidity | 10 ~ 90%RH |
BODY SPECS
Body Material

Engineering plastic ABS

Outside Dimensions(mm)

201.0W*146.6H*36.5D

Cavity Dimensions(mm)

Weight(KG)

192.0W*138.0H

0.6
CERTIFICATES
| | |
| --- | --- |
| CE | EN61000-6-2: 2005, EN61000-6- 4:2007 |
| FCC | FCC Class A |
Buy Now: